Coat of Arms
Kearney Coat of Arms and Motto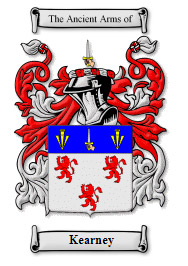 Coats of arms were developed in the Middle Ages as a means of identifying warriors in battle and tournaments. The present function of the Coats of Arms (although still one of identity) serves more to preserve the traditions that arose from its earlier use.
Heraldic artists of old developed their own unique language to describe an individual Coats of Arms. The Coat of Arms illustrated here was drawn by an heraldic artist from information recorded in ancient heraldic archives. Research indicates that there are often times a number of different Coats of Arms recorded for a specific surname.
The original colours of the Kearney arms are:
"Silver; three red lions attacking; on a blue upper third between two gold arrowheads, a gold gauntleted hand placed horizontally, holding a naturally coloured sword with a gold pommel and hilt."
The Family Motto is – 'sustine et abstine.' From the Latin into English, this simply means, 'to persevere, and to abstain.' The 'persevere' bit I understand, the 'abstain' bit I doubt. I wonder have we got the right family?